COVID-19 Vaccine & Booster
Details regarding COVID vaccine hours + booster at Dougherty's McAlester.
Walk-in for your COVID-19 Vaccine or Booster today!
Hours: 11:00am-5:00pm (Monday-Friday)
Adults walk-in vaccines available Monday, Wednesday, Friday
Child (ages 5-11) walk-in vaccines Tuesday Thursday
The staggering of adults and children is to preserve the vaccine based on dosage amounts.
Welcome to Dougherty's Pharmacy
We fill new and existing prescriptions in-store, by phone, online, and with our mobile app.
Transfer your prescriptions to our pharmacy using our simple and secure online transfer form.
Visit us in store or get in touch with a member of our pharmacy staff. We're always happy to assist you.
Become a Pharmacy Insider
Subscribe to our newsletter for promotions, health news and savings.
Welcome to
Dougherty's Pharmacy in McAlester


At Dougherty's Pharmacy, we believe that being a local independent pharmacy means providing healthcare and medication services to our patients that are customized to meet their needs. Complete with a state-of-the-art, 2,000-square-foot compounding lab, our new location offers a convenient drive-thru, retro soda fountain and by-appointment COVID-19 vaccines & boosters — all with the same personalized one-on-one customer service you've come to know and love. Visit us today, and let Dougherty's take care of you.

Download Our Free App.
Your health information in one place.

✓ Refill 24/7 »
✓ Set Reminders »
✓ Save on Medications »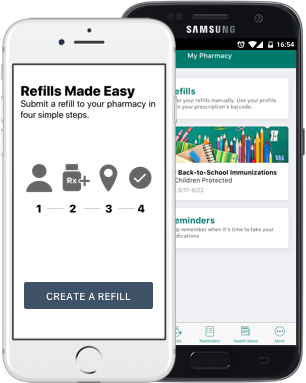 Stacy D.
"Long-time patient, here. Dougherty's has never let me down. Whether routine refills or urgent requests, the staff handles my prescriptions quickly, professionally and, above all, ACCURATELY! I know my prescription will be on time and correct when I bring it here."

Thomas F.
"It was fun looking at the unusual items they carry and the cute soda shop."

Ann S.
"I had already been to three major chain drugstores trying to find an unfamiliar OTC product when I remembered Dougherty's. After looking around there for just a couple of minutes, a staff member offered to help me. She located it quickly, explained how to use it and added practical advice from her experience with it. Next time, I'll just go straight to Dougherty's!"

We'd Love to Hear From You
At Dougherty's Pharmacy, we're committed to helping you live a healthier life. Our pharmacy staff would be happy to help you with any questions you may have.